The drivers of our pay gaps relate to representation. This means that although Inland Revenue has diversity within its front line and lower paid roles the level of diverse representation reduces when moving up to higher paid, more senior, or influential roles.
Three key areas of our work programme that support a positive shift in representation over time are:
Career development – supporting and enabling our people to build fulfilling careers at Inland Revenue. This will help people within the organisation to develop capability and to successfully move to more senior higher paid roles, and roles of influence.
Talent attraction – thinking about how we attract diverse candidates to want to apply to work at Inland Revenue, at all levels.
Talent selection – supporting candidates to put their best foot forward, and also supporting leaders to make non-biased decisions, and reinforcing the leader's role in accepting and engaging candidates from their own set of diverse values and worldviews.
These are also supported by the actions that help to make Inland Revenue more inclusive for everyone.
The representation areas where we have a clear opportunity to create significant positive change are:
Representation of women in non-people leader roles with pay between $112,000 and $162,000. These are generally higher-level technical roles.
Increase in Māori joining Inland Revenue across the board. Currently there is 12.2% Māori representation – the New Zealand working population is 16.5% Māori.
Increased Māori in leadership roles – in particular Team Lead and senior leadership, with a focus on Māori wāhine.
Increased Māori representation across higher level/higher paid technical roles - particular focus on Māori wāhine.
Increased representation of Pacific Peoples in all levels of people leadership.
Increased representation of Pacific Peoples across higher level/higher paid technical roles.
Increased Asian representation across all levels of leadership.
Representation in New Zealand working population and Inland Revenue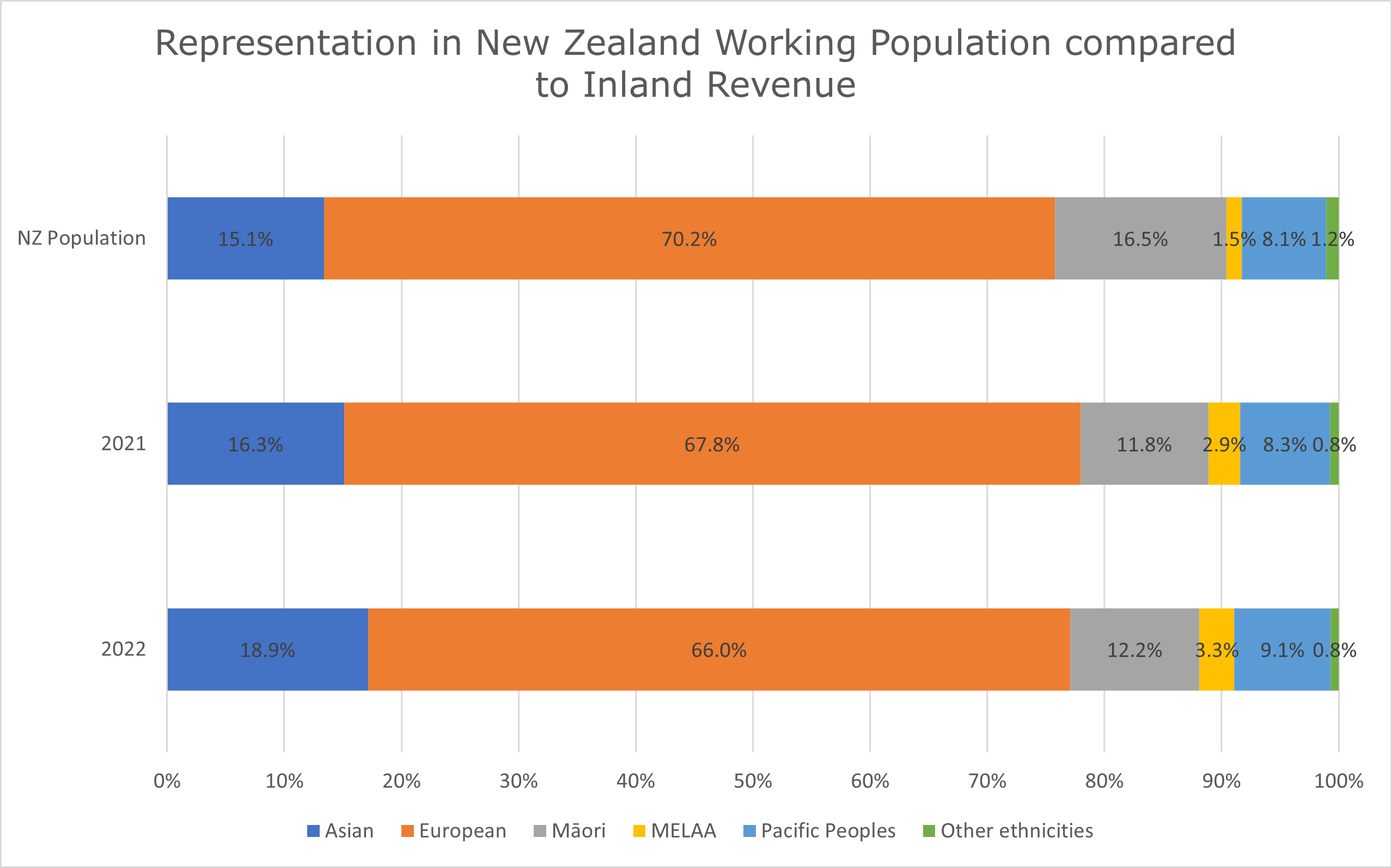 New Zealand working population by ethnicity, compared to IR ethnicity representation in 2021 and 2022.