IR for the future - Te Pae Tawhiti tells our story of what Inland Revenue is here to achieve and how we make a positive difference for New Zealand.
There are three parts to the refreshed IR for the future - our purpose, our strategic focus and how we work.
Future Inland Revenue for New Zealand
Inland Revenue's vision is to be a world-class revenue organisation recognised for service and excellence. That means becoming truly customer-centred and responsive, making it easier for customers to do business with us. We're simplifying and streamlining the tax system and providing new digital services. Customers will be able to manage their own tax business and entitlements from multiple platforms because it's so easy, and we'll help them get it right from the start.
Customers will understand what they need to do, be certain they've got it right, and know how to get help if needed. We are listening to customers and involving them in our thinking as we design new services. We use the information we hold to tailor different services and approaches, so New Zealanders can have confidence that everyone pays and receives the right amount.
We are also working with agencies across government and in the private sector to design and deliver integrated services that make dealing with government easier for business and individuals.
Inland Revenue is a dynamic and highly successful organisation. We continue to make great progress towards the organisation described in IR for the future.
I'm proud to be leading Inland Revenue as we build a world-class revenue organisation that contributes to the success of New Zealand.
Naomi Ferguson
Commissioner of Inland Revenue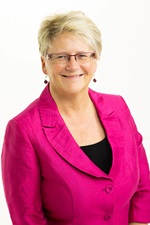 To find out more about our progress read our Annual Reports
IR for the future
Our purpose - what Inland Revenue is here to do, our mission, outcomes and vision
Our strategic focus - the Business Transformation programme and how we'll achieve our purpose
Ourselves - our people and how we work
Our purpose
Mission: what Inland Revenue is here to do
We contribute to the economic and social wellbeing of New Zealand by collecting and distributing money.
Our success is reflected in three outcomes.
People receive payments they are entitled to, enabling them to participate in society.
New Zealanders benefit economically and socially through IR working collaboratively across our external environment.
Revenue is available to fund government programmes through people meeting payment obligations of their own accord.
Vision: what Inland Revenue aims to be
A world-class revenue organisation recognised for service and excellence.
We live in a world that connects globally, nationally and locally. To ensure we can collect taxes that fund services in New Zealand we must be world-class to compete in a connected marketplace and changing world. Excellent service is our connection with customers.
Our strategic focus
We concentrate on our strategic objectives to achieve our mission, vision and outcomes. While these objectives have a long-term focus they're also flexible and responsive to the changing external environment. Our objectives are to:
grow voluntary compliance by making it easier for people to get it right
reduce customer compliance costs
make government policy changes faster and more cost-effectively.
Our corporate strategy
This strategy guides our planning decisions about funding and allocating resources, and supports our strategic objectives and outcomes. There are six interconnected strands.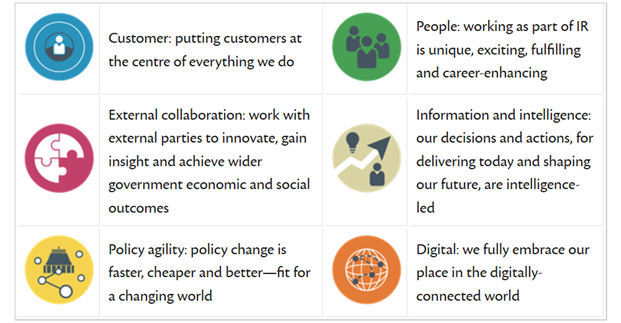 Business Transformation
Our Business Transformation programme is a critical part of realising our strategic objectives.
Business Transformation is a multi-year, multi-stage change programme that will help us become the modern revenue organisation outlined in our vision. It is transforming Inland Revenue to make it simpler and more open for New Zealanders to pay their taxes and receive their entitlements.
The programme's objectives include:
improving agility so policy changes can be made faster and most cost-effectively
improving customers' experience through simpler services and digital options
reducing customer compliance costs
further secure sharing of intelligence and information to improve service delivery across the public sector.
Find out more about the Business Transformation programme
Ourselves
The beliefs, values and behaviours of Inland Revenue people - our culture, are the foundation for our work with customers, our relationships, the decisions we make and the actions we take.
Inland Revenue culture
Customer-centric: together we understand the many influences on each customer and decide how we'll work with them to get the best outcomes for New Zealand.
Intelligence-led: we're confident we make good decisions based on quality information and analysis. We continually test and learn, to know what the best approaches will be.
Agile: we work at pace, pulling together the right people to make good decisions quickly, focusing on the things that matter most.
Our values
Four key values underpin the culture we are growing.
Trust and integrity: we act with honesty, integrity and professionalism.
Valuing people: we treat customers and each other with respect.
Innovation: to make a difference we are finding new ways to lift performance and make it easier for customers.
Working together: we are working across our business and with other organisations to deliver better services.