A tax agent is a person who prepares the annual returns of income for ten or more taxpayers and is one of the following:
a practitioner carrying on a professional public practice
a person carrying on a business or occupation in which returns of income are prepared
a Māori Trustee.
A tax agent must be a registered Inland Revenue customer. Registered customers include all customers registered with Inland Revenue, either individuals or entities. Registered customers include some entities and people no longer active.
Clients may be either individuals or entities.
The data for these statistics is available for download from the links at the bottom of the page.
Graph of clients of tax agents by location (Auckland, Rest of North Island, South Island)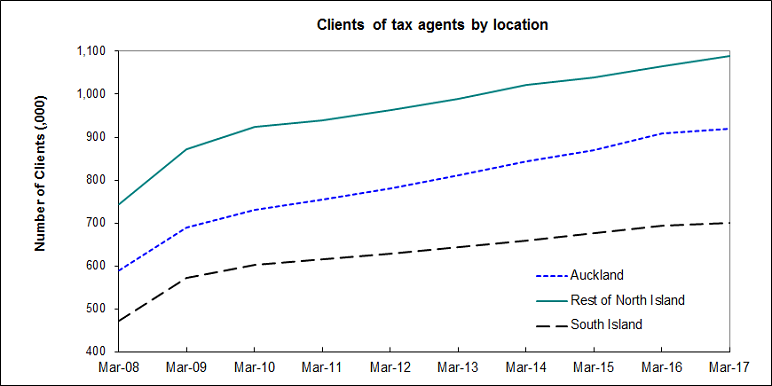 This graph has three lines, plotting the number of clients of tax agents for three locations: Auckland, the Rest of the North Island and the South Island.

From 2008 to 2017, the number of clients in:
Auckland increased by 56% (from 589,027 to 920,251)
the rest of the North Island increased by 46% (from 743,678 to 1,089,451)
the South Island increased by 49% (from 471,069 to 700,421).