The design work for our transformation was led by the Enterprise Architecture team using a set of architectural principles which applied to all Inland Revenues business units, programmes and projects. This was important as it provided consistent, quality data which could be measured as was required to make informed design decisions and trade-offs.
High-level design
The high-level design of our transformation delivered a complete set of solution blueprints to give us a picture of what we were creating and how this would help make tax and entitlements simpler and easier for customers and create a more agile and sustainable organisation.
We presented the blueprint content as a honeycomb to illustrate how each part of our transformation programme was being designed in an interconnected way.
The Business Transformation honeycomb - key characteristic of the business solution architecture.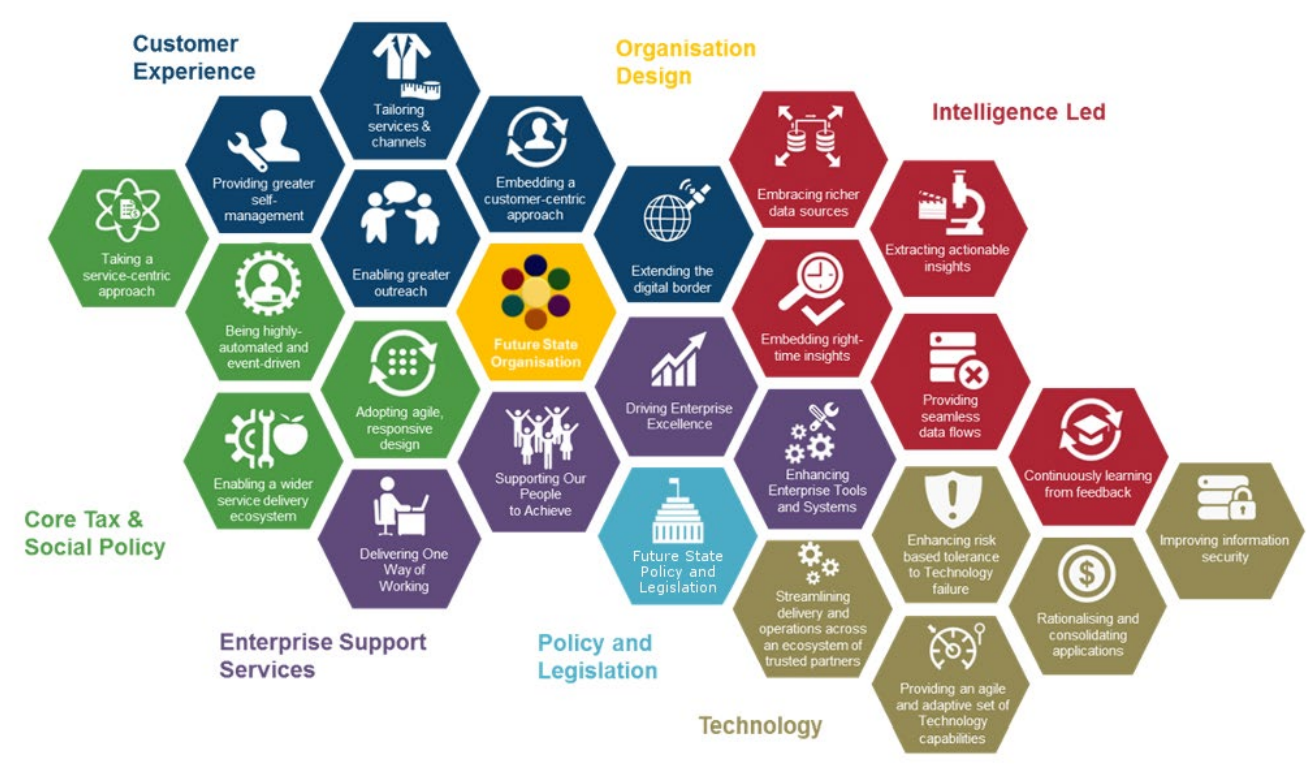 The characteristics represented by the coloured tiles summarise key themes and concepts which exist throughout the Business Solution Blueprints.
Business Solution Blueprint
We created Business Solution Blueprints covering the following areas:
Tax and social policy.
Customer experience.
Intelligence-led.
Technology and enterprise integration.
Enterprise support services.
Organisational design.
Policy and legislation.
Design governance
Two forums played a critical role controlling of our programme scope, adherence to design principal and maintaining quality standards throughout the programme. These were the Business Transformation Design Authority and the Business Transformation Technical Design Authority. Their role was to:
ensure alignment across all the programme workstreams
review any proposed changes to design, scope or delivery
share product demonstrations or review documentation and,
make informed recommendations to the Enterprise Priorities and Performance Committee (an Executive Leadership Team-led forum outside the transformation programme).